>
>
>
CIE-1100 Plastic Thermoforming Equipment
CIE-1100 Plastic Thermoforming Equipment
Brand :CIE
Product origin :China(Shanghai)
Delivery time :60-90 days
Supply capacity :10 machines per month
Main Features:
1. Mechanical, pneumatic and electrical integration. Each action procedure is controlled by PLC. Touch screen operation, simple and convenient.
2. Positive and negative pressure forming.
3. Upper and lower moulding methods.
4. Servo feeder, stepless length adjustment, high speed, accuracy and stability.
5. Four sections of the upper electric heating furnace are heated, and three sections of the lower electric heating furnace are heated.
6. Preheating device for sheet chain edge to reduce sheet breakage.
7. Temperature control system of electric heating furnace adopts full-computer intelligent automatic compensation control, zoning-one control-one digital input of man-machine interface, with high fine-tuning accuracy, uniform temperature, fast temperature rise (only 3 minutes from 0-400 degrees), stable (not affected by external voltage, temperature fluctuation does not exceed 1 degree), low energy consumption (energy saving 15%). About), long service life of the furnace plate and other advantages.
Company Profile:
CIE is an innovative technology company that has been committed to the exploration and innovation of plastic extruders and thermoforming machines in the fields of research and development, design, manufacturing, sales, and after-sales service. Aiming to provide customers with excellent overall solutions for the blister packaging industry, CIE has introduced advanced molding machine technology from Germany, Italy, and combined with its own years of R&D, manufacturing and application cases to continuously create high-end and efficient equipment for customers. It has been exported to many countries in the world and won unanimous praise from customers.
We work hard:
CIE has an elite R&D team. Its core members have more than 10 years of product development and design experience in related industries, and can provide customers with mature and stable overall solutions in thermoforming technology, equipment and molds. Over the years, they have served many world-renowned companies.
Our professional focus:
The CIE market operations team has been focusing on the promotion and application of plastic extrusion equipment and thermoforming automation equipment for many years. It has experience in the market expansion of international automation equipment companies and KNOW-HOW in many mainstream application industries. It has excellent capabilities and Experience enables us to more accurately grasp market trends and meet the diverse needs of customers.
We advocate technology:
We are people-oriented, truth-seeking and pragmatic, and strive for perfection. We have a complete quality control system. We adopt strict testing standards for each component of the product to ensure the overall quality of the equipment. We strive to build cutting-edge equipment in the industry and create value for customers.
Product introduction:
CIE-S1100 automatic three-station thermoforming machine with offline punching Machine.
Introduction
1. Automated production-comprehensively integrate complex production processes and efficiently produce.
2. Unwinding unit-pre-heating unit-forming unit-vertical punching unit-stacking unit-waste recycling unit-punching cutting stacking three-in-one horizontal punching unit.
| | |
| --- | --- |
| Electric Condition: | 380V/50Hz/3 Phase |
| Forming Material: | PP.PET.PS.PLA.HIPS.PE.HDPE.PC.ABS.PVC.PC |
| Application: | Plastic blister packaging products |
| Machinecal thickness: | Upper and bottom mold ( 3 stage furnace) |
| Forming Thickness: | 0.10-2.5MM |
| Total power/Actual power consumption: | Heating oven Max.93KW. usually use 35-50KW/h |
| Air Pressure: | 0.7 MPA |
| Water conditions: | Ordinary tap water recycle |
| Noise: | The noise of this equipment meets the national standard not higher than 75DB |
| Maximum power of the whole machine: | 140KW |
| | |
| --- | --- |
| Max: | 60T |
| Forming area: | 1100MM |
| Material width: | <=1115MM |
| Forming length: | 900MM |
| Forming depth:(Male mould) | 140MM |
| Forming depth:(Female mould) | 120MM |
| Max.Capacity: (ldle running) | 25-35 stroke/minute(Depending on material and thickness) |
| Machine size: | L11000MM*W2800MM*H2580MM |
| Machine Weight: | 17T |
Machine description-feeding unit
A. This machine adopts integrated gas and electricity loading system.
B. Stainless steel pressure roller and automatic feeding (single roll material
weight can reach 600-1000KG)
C. The pre-heating device is installed on both sides of the film .
D. There are multiple excessive rollers to ensure that the material will
not
running when stretching the sheet.
E. The heating furnace has forward and backward functions. It uses
photoelectric
eyes to detect the sag of the sheet after heating. When it exceeds a certain
limit, it provides an alarm and has function of Exit the heating furnace to
prevent the sheet from falling out of the heating furnace and causing fire.
G. Independently developed clip sheet device.
Complete equipment description – forming and Punching station device
A. The upper and lower mold parts of this machine are all casting structure,
which are durable.
B. The plane accuracy of the mold table reaches (± 0.005MM)
C. Ensure that the flatness error of the knife mold clamping is small, and the
high-speed movement does not hurt the knife edge.
D. This station can be equipped with hardware punching molds.
E. This machine has an automatic mold clamping device, which makes loading
and unloading convenient and quick.
F. The time and cooperation of the upper and lower mold tables can
be adjusted separately to ensure that the die is not damaged during
punching and shearing.
G. The lower base of the punching and shearing station is equipped with
(Taiwan linear rail). The mold position can be moved electrically to facilitate
the loading and unloading of the forming mold and the punching and
shearing alignment.
H. The upper and lower mold sets are equipped with a manual die adjustment
device, which is convenient for punching and cutting the upper and lower dies
and the alignment.
I. The design of the upper mold table has a lifting function, which is driven by a
motor to drive the chain wheel, which is convenient for adjusting the lifting.
You can directly set the height of the mold table, which makes it easier to
adjust the cutting depth. Maximum adjustment range: 130mm
J. The machine is equipped with an automatic mold locking device, which is
convenient to
load and unload the mold.
k. Guide pillar with automatic locking device for moulding mold adjustment
L. The chain rail can be automatically raised and downed to a height of 200MM,
which facilitates the overlapping installation of the upper and lower molds.
A. Rotating robot arm with 3 servo motors
B. The number and height of product stacks can be set automatically in the PLC interface
C. The robot arm at this station can rotate 360 ° and can be stacked in AB sections.
D. Grab speed can reach 50 times per minute
Machine Description-Stacking Station Device
A. Rotating robot arm with 3 servo motors
B. The number and height of product stacks can be set automatically in the PLC interface
C. The robot arm at this station can rotate 360 ° and can be stacked in AB sections.
D. Grab speed can reach 50 times per minute.
Product display
Applications of Machine:
Thermoforming packaging containers, such as cups, boxes, bowls and other thin-walled containers, such as milk cups, jelly cups, ice cream cups, disposable drinking cups, instant noodle bowls, fast food boxes, etc.
The equipment is mainly composed of body, plastic absorption forming system, temperature control system, vacuum system, heating system, gas control system, electrical and computer control system, finished product punching system, product decomposition and self-winding system.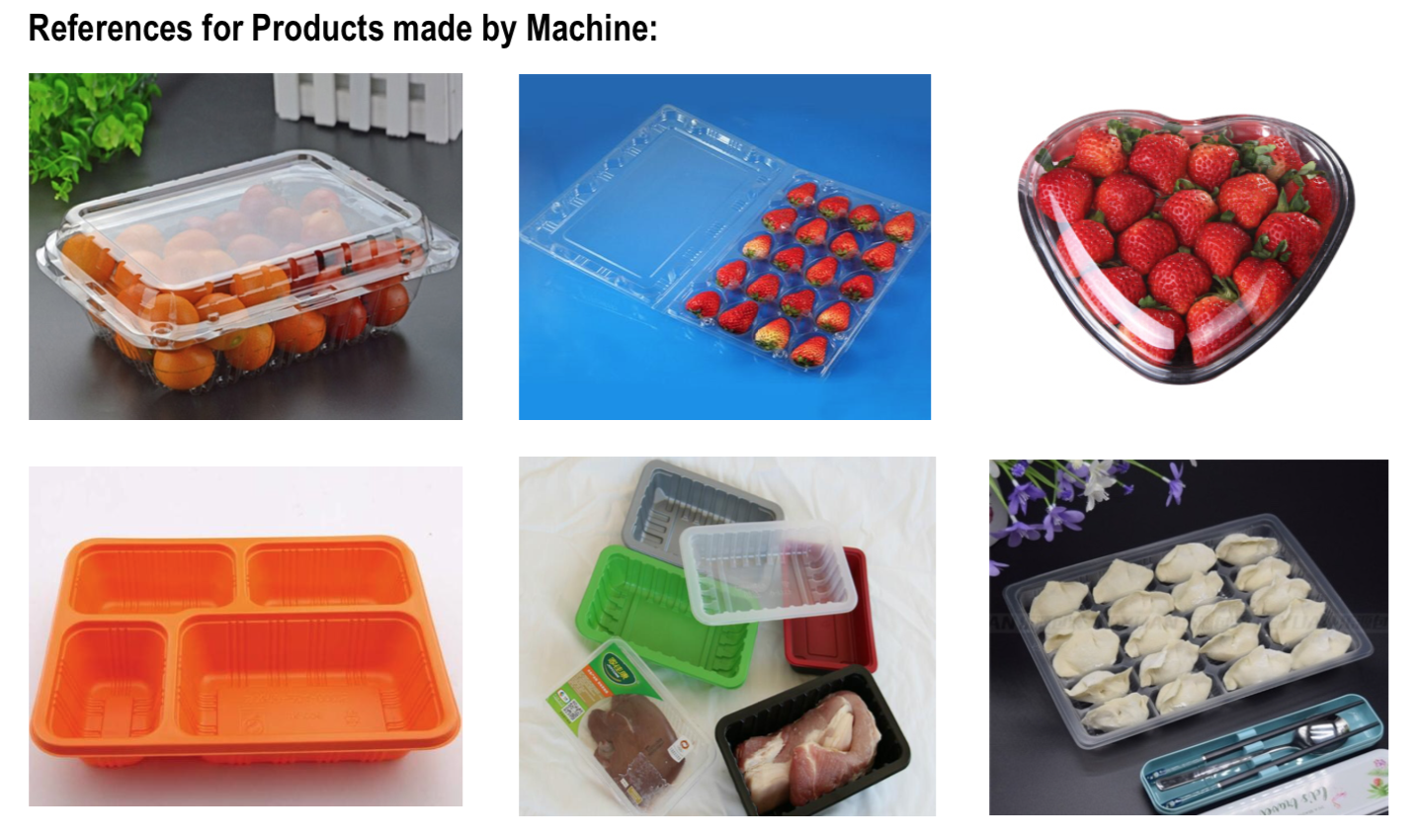 Get the latest price? We'll respond as soon as possible(within 12 hours)